Marché de la Mode Vintage
Marché de la Mode Vintage
Trade fairs & Trade shows
Last updated date : 20/09/2023
Le rendez-vous des dingues de fripes !
Présentation du Marché de la Mode Vintage
Le vintage ? C'est archi-tendance ! Avec nos prises de conscience écoresponsables et nos modes de consommation qui évoluent, notre goût pour le rétro et les trouvailles ressurgies du passé n'est pas prêt de se démoder. Car parier sur le vintage, c'est faire le choix de la qualité, de la singularité et de l'achat raisonné. Pour se faire un rendez-vous est incontournable à Lyon : le Marché de la Mode Vintage. Le temple du vintage et de la chinerie vous ouvre ses portes... Back to Basic !
Looking for practical infos ?
Fair or show
Marché de la Mode Vintage
49 - 50 quai Rambaud - 69002 Lyon 2ème
Marché de la mode vintage de Lyon, c'est quoi le concept ?
Précurseur des salons vintage en France, le Marché de la mode vintage (ou MMV pour les intimes), est né à Lyon en mars 2001, d'une initiative de l'Université de la Mode. A l'époque, les friperies et brocantes ne sont pas encore en plein essor, mais les étudiants et étudiantes flairent l'air du temps et s'emparent du sujet de la seconde main. Bien vu ! Car désormais rien n'est plus tendance qu'offrir une seconde vie à un vêtement, dès lors qu'il a été fabriqué dans des matières nobles et durables. Et rien n'est plus précieux qu'un objet ou accessoire qui a voyagé dans le temps. Ainsi, soutenu notamment par la Métropole de Lyon, et la Ville, ce salon vintage rayonne en France et en Europe depuis plus de 20 ans.
Marché de la mode vintage, qu'est-ce qu'on y trouve ?
Concrètement, que déniche-t-on dans le temple du vintage ? Un manteau de luxe, un bijou précieux, un perfecto en jean, de la vaisselle ancienne de mémé, un vinyle d'époque, un buffet vintage danois... Lors des dernières éditions, c'est quelque 200 marchands mode et déco maîtrisant l'art de la chine sur le bout des doigts, qui étaient présents à chaque rendez-vous ! De quoi en avoir pour tous les âges, toutes les bourses et tous les styles.
Mais le Marché de la mode vintage ne se résume pas aux emplettes que l'on peut y faire. Toute une série d'animations ponctuent le week-end. Défilés, ateliers créatifs, collecte de vêtements, photocall, DJ sets, concerts, stands de tatouages, service de réparation de sacs... le programme varie d'une année sur l'autre, avec toujours un thème phare faisant office de fil conducteur. Les étudiants et étudiantes de l'Université de la Mode et de SUPDEMOD par exemple participent aux festivités. Les éditions précédentes ont également accueilli Le Relai, Emmaüs ou encore Leboncoin. Enfin, dans cet univers festif nappé de rétro, il est possible de chiller, grignoter ou boire un verre.
Les 23 et 24 septembre 2023 : un Marché de la mode vintage "Bohème"
À chaque Marché de la mode vintage sa thématique ! Après une édition 2022 placée sous le signe du mignon et du coloré façon Kawaii, le salon vintage passe en mode Bohème. Les 23 et 24 septembre 2023, les amoureux et amoureuses de la mode vintage sont invités à célébrer la fin de l'été, mais aussi un mode de vie. Celui de vivre au jour le jour, sans se soucier des règles, en assumant son côté artistique. Celui du retour au vrai et aux matières naturelles. Dans nos intérieurs, cela se symbolise par du bois, du bambou, du rotin.... Dans nos penderies, du coton, de la laine, des motifs fleuris, etc… Comme un retour aux sources, le MMV 2023 se tourne vers l'authentique, la liberté de vivre, sans le souci du lendemain le temps d'un week-end.
Côté animations, cette édition 2023 réserve de belles surprises : défilé étudiants, chasse aux looks visiteurs et remise des MMV Awards, show danse et bal swing et bien d'autres ! À l'heure de l'été indien, profitez d'une terrasse de food trucks le long du quai de Saône de la Sucrière et appréciez l'ambiance musicale et festive garantie par des DJ sets.
Fair or show
Marché de la Mode Vintage
49 - 50 quai Rambaud - 69002 Lyon 2ème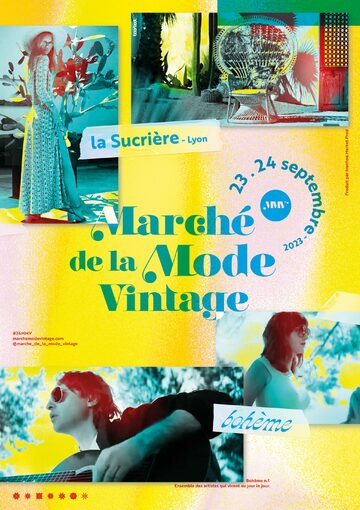 Marché de la mode vintage, quel est l'intérêt ?
Au-delà du fait de passer du bon temps à arpenter les allées du salon à la recherche de LA pépite vintage et de la bonne affaire qui rendra tous vos proches jaloux comme des poux, le MMV cumule les bons points.
On ne vous apprend rien, opter pour la seconde main peut être un excellent moyen de faire des économies. Le tout en profitant de pièces de qualité, parfois luxueuses, pour lesquelles on aurait dû casser la tirelire. Mais c'est aussi une manière, à son échelle et au quotidien, de participer à une consommation circulaire et raisonnée. Un vêtement ou un meuble utilisé plusieurs fois est un produit qui pollue moins ! Et ça, c'est un sacré argument en faveur du vintage et de la seconde main. Enfin, si vous aussi vous trouvez que des pièces qui ont traversé les âges ont ce petit supplément d'âme alors n'en jetez plus (haha) ! On se retrouve là-bas !
LIFESTYLE
On en parle aussi dans...
Special feature
Fashion: second-hand leading the way
There is nothing "new" about second hand. Second-hand clothes shops have been around for decades and Lyon's Vintage Fashion Market has been selling used items since 2001. There has been a new surge in the popularity of clothes recycling of late, however, particular among the younger generation, with increasing digitalisation making it a viable environmental solution. We took a closer look.
Discover
Marché de la mode vintage, c'est quand, c'est où ?
Mais au fait, cela se passe où exactement ? Depuis ses débuts, le Marché de la mode vintage prend ses quartiers à la Sucrière, au cœur des Docks de Lyon Confluence. Quel meilleur écrin que cet entrepôt réhabilité qui, lui aussi, a droit à une deuxième vie, et qui accueille nombre de rendez-vous mythiques ? Le succès est tel que le Marché de la mode vintage vous donne désormais rendez-vous deux fois par an, au printemps et au début de l'automne. Le salon est ouvert aux particuliers comme aux professionnels avec un système de prévente à 5 euros puis un billet d'entrée à 6 euros. Lors de la dernière édition, 15 000 personnes ont répondu présentes.
Faire du neuf avec du vieux ? Cela n'a rien de nouveau ! Mais ce qui est plus que jamais d'actualité, c'est que jeunes et moins jeunes ont tous compris le sens de cette démarche et se l'approprient. Et ça, c'est bien parti pour durer !
DÉCOUVRIR
La Sucrière
Construite dans les années 1930 sur les docks industriels de Lyon Confluence, La Sucrière est un lieu original mariant culture, création, et communication, mais également convivialité grâce à ses 3 800 m² d'espaces événementiels dont 1 700 m² dédiés aux expositions culturelles.
VOUS AIMEREZ AUSSI
Notre sélection d'adresses vintage